from Ty's Training
Weekly Summary – 73 Miles in 13 runs. A great week including a 29'06 10k as a last hard effort before Grandma's Marathon, now less than a week away! Feeling the taper… ready to roll!
Don't forget to follow me on Instagram and Twitter @TylerCAndrews. And, of course, don't forget to check out STRIVE's programs for this summer, where you can come do service work and train with me in Peru! There's still some spaces available in STRIVE's second session (July 19 – August 8) for bothHigh School AND College students, so be sure to take a look if you're interested in an amazing summer experience!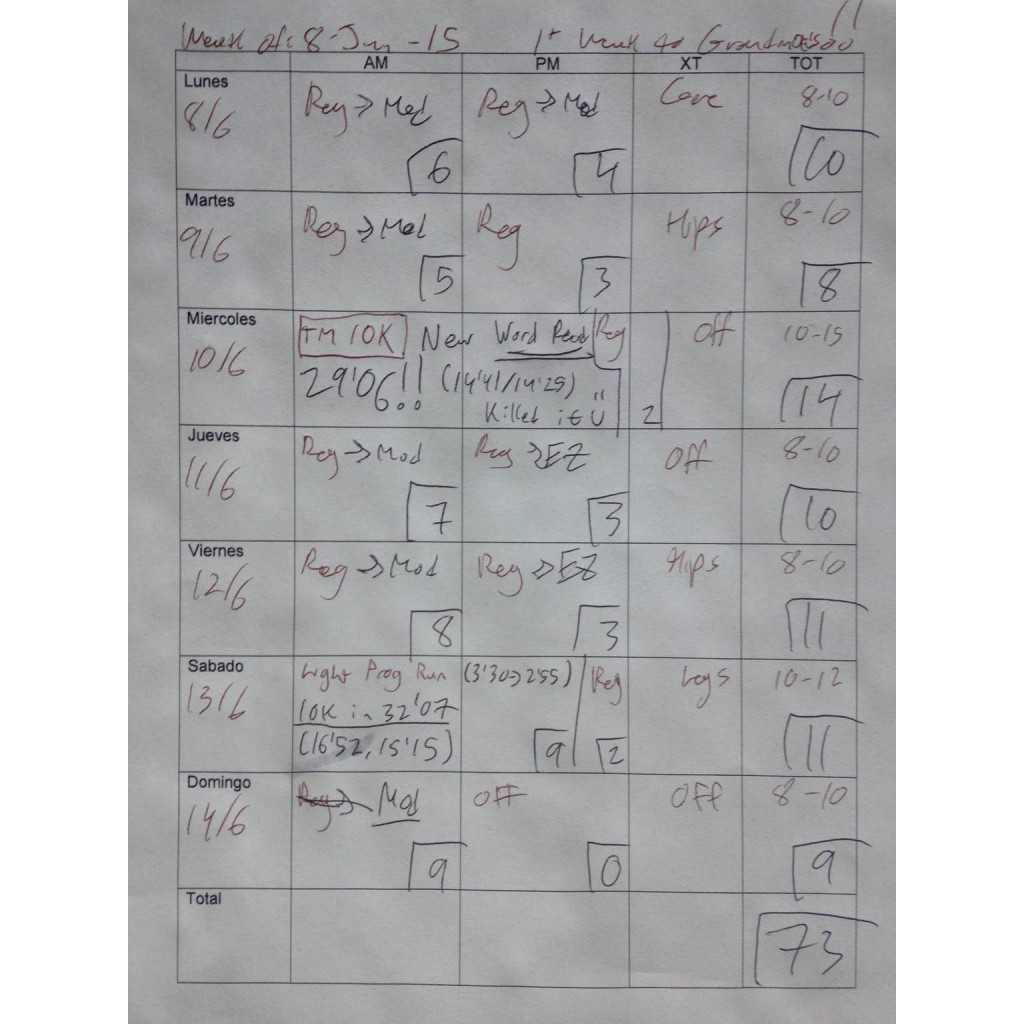 Lunes, 8 de Junio, 2015 – 9am: Easy run solo on MV south. Felt good. Nice out, in the 70s and windy. Legs felt fine, running quicker by the end ~3'40. Total run 10k in 40'.
4pm: Easy run around CC with a couple stops to drop off shoes and buy veggies. Ran fast at the end to avoid the armageddon storm that was coming in. Total run 4M, NT.
XT: Core, 12'.
Martes, 9 de Junio, 2015 – 9am: Easy run on MV north. Felt good. Treating today as pre-race with the 10k tomorrow, so very light. Total run 5M in 33'.
4pm: Easy shakeout around CC. Felt great. Ready to roll tomorrow. Total run 3M, NT.
XT: Hips.
Miercoles, 10 de Junio, 2015 – 7am: Sparknotes: Treadmill 10k WR attempt: 29'06, split 14'41, 14'25. Felt great and killed it. No "kick" or really sudden acceleration, just steady increase of focus through the second half. A bit tough 6-8k, but that's the 10k. Last 2k felt good and was able to close in 5'42 (4'31 last 1600m), which was great. Full splits at the bottom.
For the longer write-up, see the previous post on the blog.
4pm: Easy shakeout around CC. Finished at Costco. Total run 2M+.
XT: Off.
Jueves, 11 de Junio, 2015 – 9am: Easy run outside. Felt surprisingly decent after yesterday's effort. Ran on MV south. Hot already in the 80s. Running quicker by the end ~3'45. Total run 7M in 48'.
6pm: Ran late. Still VERY hot, 95F and super humid and sunny. Felt good though leg-wise. Finished at the pool for a nice soak. Total run 3M, NT.
Viernes, 12 de Junio, 2015 – 9am: Easy run on MV south. Finished around CC to get yogurt. Total run 12k, 7.5M in 50'.
5pm: Easy shakeout around CC. Felt good. So hot today, 95F and humid and sunny. Hottest day yet, at least how it felt. Total run 3.5M+.
XT: Hips.
Sabado, 13 de Junio, 2015 – 10am: Sparknotes: 10k progression run from moderate (3'29) to ~10k pace (2'53). Middle 3-4km around MP. Split 16'52/15'15 for 32'07. Felt good, very comfortable effort.
Slept late and headed out. Already very warm, 88F and sunny and humid. Warmed up 2M very easy, changed into flats, did drills, 2x moderate strides.
Goal was 10km progression run – keeping the effort very under control (a "yellow" effort). Started around 3'30/km and progressed down to about MP by halfway (16'52). Ran the next 2km at 3'10-12 and then picked it up on the last 3k to run 8'53 – 3'04, 2'55, 2'53. Last 5k was 15'15.
Felt a bit tough in the last few minutes, but otherwise it was super under control. And basically as soon as I stopped I felt fine and like I could have run it again. No problem.
Finished with 1km very easy to the gym for legs.
Total run 9M+.
Splits
1 km 3'29.2 (3'29.2)
2 km 6'56.4 (3'27.2)
3 km 10'19.9 (3'23.5)
4 km 13'38.0 (3'18.1)
5 km 16'51.4 (3'13.4) – (16'51.4)
6 km 20'01.5 (3'10.1)
7 km 23'13.5 (3'12.0)
8 km 26'18.1 (3'04.6)
9 km 29'13.5 (2'55.4)
10 km 32'07.2 (2'53.7) – (15'15.8)
XT: Legs at the gym: No weights – just to keep in with routine. 3 sets of [15x each leg step ups, 20x overhead lunge, 24x static lunge, 12x squat (bar)].
4pm: Very easy shakeout around CC. Spent a lot of time walking around DC this afternoon with Chris which was fun but super hot and a bit tiring. Total run 2M+.
Domingo, 14 de Junio, 2015 – 10am: Slept late (again) and ran when it was already quite hot and muggy. 89 feels like 97F! Yikes. Felt surprisingly good. First km slow as there was a cycling race in CC that I had to navigate through, but after that I was running 3'3x without even trying and had to slow down to run 3'4x-5x for the rest of the run, which felt fine, event in the heat.
This is race week! Ready to roll.
Total run 9M+ in 55'.
PM: OFF – walking to the movie theater and back to see Jurassic World